Nutella Chiffon Cake is a soft and very high cake that both, adults and children, like so much.
Some time ago, I was looking for a good dessert, very greedy (capable to made the mouth water, to be clear >_<) and that could surprise the birthday boy. Emy is an extremely greedy boy and who would also gobble up the legs of the table, if he were in front of a laden table :-D. He love so much sweets and treats, but that if he is to smell the scent of a pork hock baked in the oven with chips, he could also decide to declare eternal love :-D.
The fact is, however, that he recently turned his birthday and my gift was the cake I'm talking about today. High, soft, naturally dairy free.
I published so many different chiffon cakes in this blog….this ot that, for example!
This is, as I said, a tall, soft and light dessert that suitable itself to billions of flavors based on the desire of the moment. The Nutella Chiffon Cake is a very soft cake, a characteristic that distinguishes this dessert, and especially delicious. In short, a dessert capable of stealing everyone's hearts.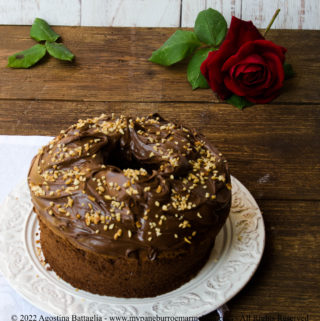 Nutella Chiffon Cake
The Nutella Chiffon Cake is a very soft cake, a characteristic that distinguishes this dessert, and especially delicious. In short, a dessert capable of stealing everyone's hearts
Equipment
1 Chiffon Cake Pan Ø20 cm or a cake mold with high sides Ø20 cm
Ingredienti
120 

g

all-purpose flour

140 

g

granulated sugar

30

g

granulated sugar

20

g

unsweetened cocoa

3

tablespoons

Nutella

6

egg

 whites

60

 g

water

60 

g

organic sunflower oil

1

sachet

baking powder

1

sachet

cream of tartar

1

teaspoon

of salt

1

teaspoon

vanilla extract

— to finish - —

1

Nutella jar

hazelnut chopped & roasted
Procedimento
Heat the oven to 180 degrees.

Mix together the flour, baking powder, cocoa and salt.

Whip the egg yolks with the sugar (140 g) for about 5 minutes (the mixture must become very light yellow).

Beat the egg whites and add the cream of tartar; whisk until they become frothy. Slow down the speed and add the remaining sugar (30 g).

Increase the speed and continue to whisk for another 5 minutes, until you have a firm meringue.

Add a part of the egg whites to the yolks mixture, mix well from bottom to top and, once the compounds are well assembled, add the remaining egg whites.

Pour the mixture into the pan without flour or butter it. Bake at 170 ° for about 40 minutes (do the toothpick test to check cooking).

Remove from the oven and turn the mold upside down until completely cooled. Finally remove the removable bottom of the mold and place the cake on a wire rack.

When the cake is completely cooled, decorate it with the Nutella in spoonfuls, distributing it evenly over the whole cake and leveling it to your liking.

At he end, finish sprinkling with the chopped hazelnuts ^ _ ^